"The profits my friend, are blowing in the wind." OK, Bob Dylan didn't write his song that way. But he might if he looked at the prospects for wind power going forward.
Bloomberg reports that global wind-power installations are picking up again in 2018. That's after slowing the previous two years.
A whopping 54.5 gigawatts of wind power will be added worldwide this year.
And the winds of this potential profit storm are just starting to roar.
Bloomberg forecasts the three years starting in 2019 to be the strongest on record for adding wind power, with more than 200 gigawatts coming online. Offshore units will provide more than one-fourth of global power starting next year.
Is wind power going to increase? You bet your sweet bippy.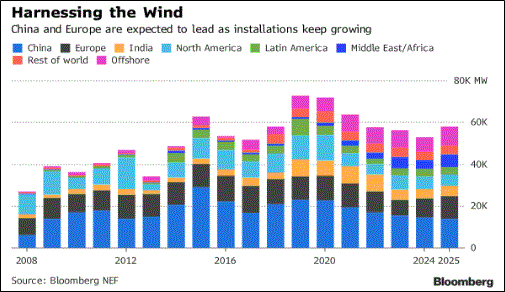 Click image for a larger view.
And one factor is the cost of storing wind energy is about to get cheaper.
See, the problem with wind is it doesn't blow all the time. Britain went for about a week at the start of June with no wind power at all. That sent grid power prices much higher.
But the price of wind energy could fall by 58% by mid-century. And that's due to the batteries used to store that power getting a lot cheaper.
Lithium-ion battery prices have already fallen 80% since 2010. Bloomberg New Energy Finance predicts that the price of a Li-ion pack will fall another 66% between 2017 and 2030.
This will dramatically drop prices of solar power as well. The cost of solar PV should fall by 71%.
In total, Bloomberg New Energy Finance expects $11.5 trillion to be invested in new power generation capacity by mid-century, with $8.4 trillion of this sum being in wind and solar.
So how can you play this? One way is through the First Trust Global Wind Energy ETF (NYSE: FAN).
This fund holds companies including China Longyuan Power, Orsted A/S, Siemens Gamesa Renew, Vestas Wind Systems, Boralex, Nordex and more.
These are companies you've probably never heard of. But they're big in the global wind power market. And that's a good place to be, because the U.S. isn't driving wind power adoption.
No, in fact, the Trump administration's 30% tariff on imported solar cells and modules was put into effect this year. That makes alternative energy pricier in the U.S. Even Tesla (TSLA) just announced that it's downsizing its solar business. The company is closing a dozen of its solar facilities across nine states.
In other words, it's other countries that are leading the transition. Countries that are well-represented in FAN.
Even better, FAN is on sale. And by that, I mean off its highs. It could get cheaper, as this weekly chart shows …
This fund is pulling back due to the higher Trump alt-energy tariffs, as well as more tariffs on steel and aluminum. But as I said, the U.S. isn't leading in this industry. In fact, Uncle Sam is likely to be left in the dust. A fund stuffed with firms that can ride the rising winds of change overseas could do very well indeed.
Full disclosure: I plan to start legging into FAN in the near future in my own account. Sure, it could go lower. That's why I'll be taking it one slice at a time. Investors with an eye on the longer term and an appetite for sky-high profit potential should do the same.
All the best,
Sean