It's Christmastime and some are naughty, and some are nice. One of the nicest metals around looks to be even nicer in 2019. I'm talking about uranium. The front-month uranium futures just hit a new high for the year at $29.75 per pound, and is up more than 21% since the start of 2018. And it's up a lot more since its April lows.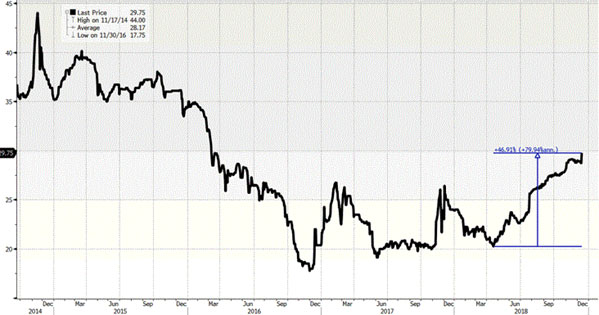 Source: Bloomberg
In fact, the spot price of uranium began to rally hard in April this year, thanks to production cutbacks in Kazakhstan and Canada. It is still way off its highs it hit as recently as 2016. And way, way off the high of $136 per pound it hit in 2007.
In 2019, the price of uranium could go ballistic.
Why? A good ol' fashioned supply demand squeeze.
On the supply side, here's what happened …
 Kazakhstan's state-owned uranium miner Kazatomprom, which produces a quarter of the world's uranium, recorded output of 19,600 metric tons during the first 11 months of 2018. That's down 7% from the same period in 2017.

 In July, Cameco (CCJ), the world's top listed uranium producer until Kazatomprom just listed in London, mothballed its McArthur River operation in Saskatchewan indefinitely. When that mine shut down, it took 11% of global supply with it. The McArthur River mine can produce more than 11,000 metric tons a year.

 In August, Paladin put its Langer Heinrich mine in Namibia on care and maintenance. The company may restart the mine for vanadium.
On the demand side, it's China, China, China!
 China has 42 operating nuclear reactors, 16 under construction and a further 43 planned.

 China wants to produce 58 gigawatts of energy per year from nuclear power by 2020. By then, China will account for 12.8% of global demand.

 China's own uranium supply is very limited. So, its dependence on foreign imports will reach 84% by 2020.

 By 2050, China's installed nuclear capacity will reach 400 gigawatts.

 On Nov. 26, China National Uranium Corp., a state-backed firm, bought a Namibian mine, guaranteeing itself 3% of global output.
To this squeeze, we can add more short-term and speculative forces.
For years, the world had one fund that bought physical uranium, the Uranium Participation Corp. (TSX: U) (OTC Pink: URPTF). Now, two more have joined the party: Yellow Cake (OTC Pink: YLLXF) in London and Uranium Trading Corp., which is the newest and is listing in New York.
And Cameco has become a huge buyer on the spot market. It comes in nearly every month and clears the boards of spot supply, because it has millions of pounds of long-term contracts to fill. Why does it buy on the spot market when it closed down its McArthur Mine? Because uranium prices are still so depressed, it's cheaper for Cameco to buy it than mine it.
Related post: Uranium insider says 'Get ready for blast-off!'
The bottom line is that the uranium/nuclear markets are shifting from West to East. China is in the driver's seat. And China doesn't seem to mind driving prices higher.
My forecast is that we see the spot price of uranium hit $40 per pound in 2019. And it may go higher.
Individual stocks are the best way to play this trend, period. My Wealth Supercycle subscribers have taken two rounds of gains on uranium stocks this year, and I recently gave them a new pick for even more profit potential. There's still time to get in on this trade.
If you prefer funds, the Global X Uranium ETF (NYSE: URA) has an expense ratio of 0.69% and pays a 2.4% dividend. Its holdings include uranium miners. But it's not a pure play — it also includes companies that build nuclear power plants and equipment, and more.
Do your own due diligence whatever you buy. But get prepared for the coming rally. Santa has given us a gift with low-priced uranium picks. But these won't be under the tree for too much longer.
All the best,
Sean