We've seen two waves of the COVID-19 pandemic. The first peaked in April (in the U.S., anyway). The second peaked in July. Now, cases are ticking up again. And that's happening just as we head into flu season. Some experts say this raises the possibility of a "twindemic."
"We must, over the next few weeks, get that baseline of infections down to 10,000 per day, or even much less if we want to maintain control of this outbreak," Dr. Anthony Fauci, the director of the National Institute of Allergy and Infectious Diseases, said in press reports this week.
Total cases in the U.S. passed 6.6 million. And we hit 200,000 deaths less than four months after we hit 100,000 deaths.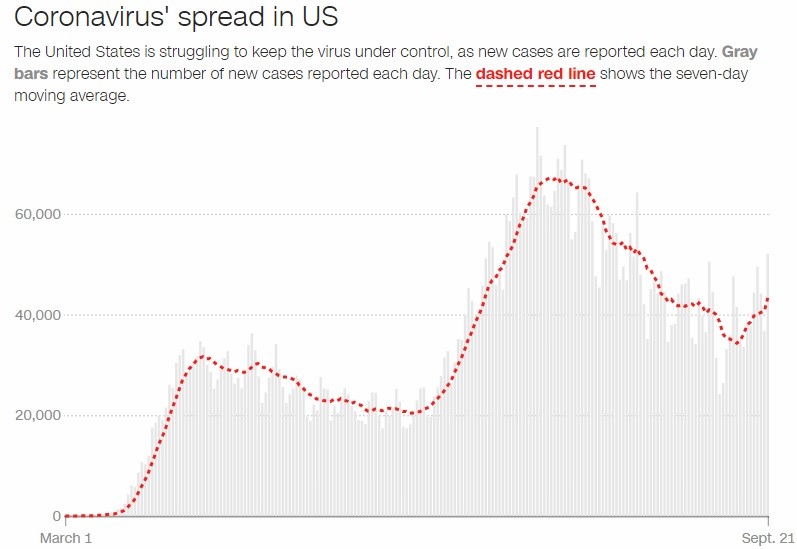 Source: CNN/John Hopkins
Some good news: While infection rates are back over 40,000 per day, according to a recent tally, they're still far less than the record 70,000-plus infections per day that were being logged in June.
Also, if more people are wearing masks, the flu season might actually be mild. There are a lot of unknowns here.
But there are also some not-so-comforting facts …
COVID-19 is now the second-leading cause of death in the U.S., just after heart disease, according to the University of Washington's Institute for Health Metrics and Evaluation (IHME).
Peter Hotez, Dean of the National School of Tropical Medicine at Baylor College of Medicine, told CNN: "We may be in for a very apocalyptic fall." Dr. Hotez pointed to school reopenings as a major culprit.
In fact, more than 59,000 COVID-19 cases have been reported among college students and staff. Some colleges are controlling the virus, others are acting like petri dishes for it.
At least 22 states now report a rise in new cases. Only seven report a decline in new cases.
The FDA is reportedly going to roll out tougher standards for a vaccine that make it unlikely one will be cleared by election day (Nov. 3). We may not see an approved vaccine until early 2021.
This is terrible news, sure. But as an investor, you can make the best of a bad situation. I'll give you three examples …
1. The SPDR S&P Biotech ETF (NYSE: XBI, Rated C). This fund tracks the S&P Biotechnology Select Industry Index and has more than 120 holdings. It probably has more that one potential winner from the race for a COVID-19 vaccine.
2. The Invesco DWA Healthcare Momentum ETF (PTH, Rated C). This healthcare-focused ETF allocates 42.25% of its investments to biotech.
3. The iShares NASDAQ Biotechnology ETF (NASDAQ: IBB, Rated C). The fund tracks the NASDAQ Biotechnology Index and holds a bevy of big-name biotech names.
Let's see how these three funds did against the S&P 500 since the market bottomed in March.
You can see that, since the March bottom, PTH has outperformed, with XBI close behind. IBB is barely outperforming the S&P 500. This just goes to show you that not all biotech funds are the same, even if they carry the same Weiss rating.
You could drill down into these funds to find individual stocks for even more potential outperformance. Just be aware that while individual stocks can outperform ETFs, they also carry more risk.
The coronavirus is cranking up the risk factor for us all. As investors, we can hide from the facts, or we can try to make the most of it. I think it's time to find an Rx for profit potential.
All the best,
Sean
P.S. — In addition to these pandemic picks, you should know by now that I'm still very bullish on precious metals — gold in particular.
That's why I held this urgent briefing, "The Great Reckoning,"  yesterday, revealing the biggest potential profit opportunities for the next wave of this gold rush.
It's coming … and soon. I recommend you watch my briefing now, before it's too late.